As explained in the
original 'Cases of Break-Up Violence' list
, break-up violence is described as "
an instance or several instances of violence from an ex-partner after the break-up."
Studies have shown that a person is
"more likely to be seriously injured or killed after a break-up and in 20% of relationship homicides, the killing itself was the first act of violence."
This type of violence is clearly an ongoing issue for many people in toxic relationships. Below is a list of 8 more cases that involve victims of break-up violence. These tragic cases serve as a reminder to take extra safety precautions when dealing with a potentially violent ex. For more information on staying safe after a break-up, please
visit this page.
8. Racheal Wiest
Racheal Wiest (16) was murdered by her ex-boyfriend Jacob Boyd (17) on May 25th, 2015. The two teens met and began dating at their high school in Irving, Texas--however Racheal's parents did not allow her to date, so she kept her relationship with Jacob a secret. Racheal's parents often thought their daughter was hanging out with friends when in reality she was with Jacob. However, their relationship was tumultuous; Jacob was reportedly controlling of Racheal. According to friends, he would verbally abuse her and pressure her into sex. The two went through numerous phases of breaking up and getting back together.
In early May 2015, Racheal broke up with Jacob yet again. Two weeks later, on May 25th, Racheal and Jacob met up at a mutual friend's house to discuss potentially rekindling their relationship. Jacob attempted to initiate sex, but Racheal refused. This angered Jacob; he subsequently grabbed Racheal's phone and threw it to the floor. Then, he attacked Racheal proceeded to choke her to death. The friend stumbled upon the scene and immediately called 911 while attempting CPR to Racheal. Unfortunately, it was too late--she had already passed away. Police arrived on the scene and arrested Jacob. He was charged with murder. In January 2016, Jacob was found guilty of Racheal's murder. He was sentenced to 80 years in prison and will be eligible for parole in 30 years. [
read more
]
7. Heather MacCrossen
Heather MacCrossen (26) was on the midst of escaping an abusive relationship with Andrelo Witcher (pictured right) when she vanished on August 17th, 2007. Witcher is a registered sex offender with a long criminal record. Throughout Heather's relationship with him, there were many documented instances of domestic violence. Heather finally put her foot down in July 2007, when she decided to leave her home in Newberry, Florida and flee to Michigan, where her family lived. According to her family members, Heather arrived there with two black eyes. She stayed in Michigan for about a month before she had to return to Florida for a court date for a misdemeanor traffic ticket. Heather called her mother from a Greyhound bus stop in Gainesville, Florida on August 17th, 2007 to let her know that she had arrived safely. That was Heather's last known interaction, and she has never been seen or heard from again.
It was immediately suspected that Witcher was responsible for Heather's disappearance, but police were unable to charge him right away. He continued to get in trouble with the law in the years that followed. In 2012, Witcher became the prime suspect in the disappearance of another young girl:
Kamrie Mitchell.
Finally, in April 2016, Alachua County investigators announced that they filed manslaughter charges against Witcher for the 2007 death of Heather. During early December 2018, Andrelo went to trial for manslaughter in Heather's case. It took the jury only five hours of deliberations to find him guilty. There was very little physical evidence presented in the case, however multiple witnesses testified that Witcher was abusive towards Heather. Certain witnesses stated that Witcher repeatedly told Heather that he was going to "kill her and hide her body where her family would never find it." It appears that Witcher kept his word to this day, as Heather's body has never been found. In early January 2019, Witcher was sentenced to 30 years in prison. [
read more
]
6. Heather Stamper
Heather Stamper (31) was brutally murdered by her boyfriend Steven Pierce (45) inside her own home on July 9th, 2016. The couple lived in Delaware City, Delaware at the time. On the evening of the murder, Steven was sent into a jealous rage after he thought he saw Heather texting her ex-boyfriend. Heather and Steven got into a heated argument that resulted in Heather ending the relationship. The two were reportedly seen arguing in the street that night before Heather returned home.
Steven visited friends afterwards, expressing his anger towards Heather and even asking to borrow weapons. He returned to Heather's house a few hours later. Her roommate let him inside, and later reported hearing loud noises coming from Heather's basement bedroom. Around 15 minutes later, Steven emerged from Heather's room crying, saying that his relationship with Heather was over. Before leaving, he said "We broke up. I'll never see that bitch again." Unbeknownst to Heather's roommate, Heather was dead. Steven had bludgeoned her to death. Steven returned to Heather's home the following day and called 911, stating that he had found his girlfriend dead in her bedroom. Police arrived on the scene, and it was immediately clear to them that Heather had been murdered. Her cause of death was eventually ruled as blunt force trauma. However, no arrests were made at the time. Finally, though, in October 2016, Steven was arrested and charged with Heather's murder.
Steven went to trial in April 2019. He was ultimately found guilty of first-degree murder. In July 2019, he was sentenced to life in prison plus an additional 25 years. [
read more
]
5. Anthony Hall
Jim 'Anthony' Hall (23) was brutally murdered by his on-again, off-again girlfriend Samantha Stansifer (20) on June 14th, 2015. The two had gone through numerous break-ups and reconciliations during their three year relationship, and in June 2015, the couple had broken up yet again. However, Samantha was still living with Anthony at his Henryetta, Oklahoma house. The two of them attended a party together on the evening of June 14th, and while at the party, Samantha noticed that Anthony had text messages from another girl on his phone. The two then began to argue and ended up returning to Anthony's house. Once there, things appeared to calm down briefly. In fact, Samantha and Anthony had almost fallen asleep when Samantha noticed more text messages from the same girl on Anthony's phone. Samantha then told Anthony she was going to the kitchen to get a drink of water, but instead she grabbed two knives. She then returned and began to stab and mutilate Anthony's body until he died.
Afterwards, Samantha called the police and told them,
"I killed my boyfriend and now I can't kill myself."
Officers quickly showed up on the scene and Samantha was arrested shortly thereafter. In April 2016, Samantha pleaded guilty to murdering Anthony. She was sentenced to life in prison without parole. Samantha currently remains behind bars in Okmulgee County. [
read more
]
4. Zuzu Verk
22 year-old Zuzu Verk (pictured right) was murdered by her on-again, off-again boyfriend Robert Fabian (pictured left) during the early morning hours of October 11th, 2016. Zuzu was last seen at Robert's apartment in Alpine, Texas, and she was reported missing the following day when she failed to show up for a midterm exam and for a shift at work. Months later, on February 3rd, 2017, authorities found Zuzu's skeletal remains in a shallow grave in Brewster County. It was believed that she had been strangled to death. Her case was classified as a homicide.
Robert had been a suspect in Zuzu's disappearance since she was first reported missing, but he continuously denied knowledge of her whereabouts. Authorities spent months gathering evidence against Robert, and when Zuzu's body was found, investigators determined that she had been wrapped in thin plastic sheets that Robert had purchased just hours after Zuzu's disappearance. Robert and his friend Chris Estrada were arrested on February 4th, 2017 and charged with tampering with or fabricating physical evidence by concealing a human corpse. Later, Robert Fabian was also indicted on first degree murder charges in Zuzu's case.
Robert pleaded not guilty to all charges and went to trial in May 2019. At the trial, it was revealed that Robert was very possessive and controlling over Zuzu throughout their relationship. Prosecutors stated that Robert was angry over the state of their on-again, off-again relationship–which ultimately lead to her murder. The jury found Robert guilty of all charges. He is expected to spend the rest of his life in prison. [
read more
]
3. Jholie Moussa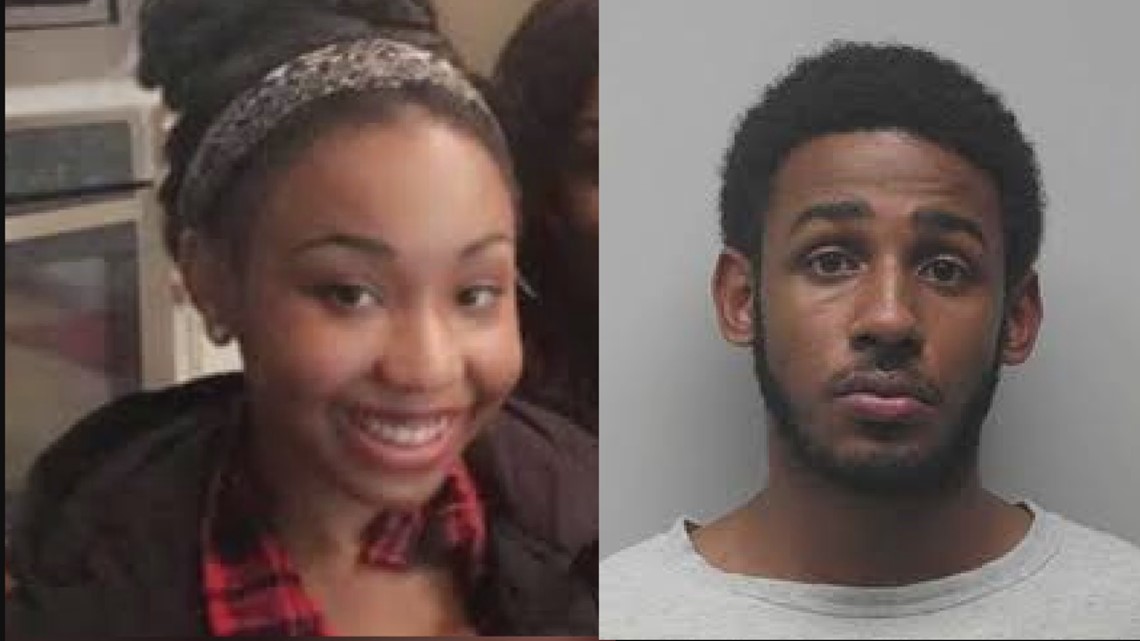 Jholie Moussa (16) vanished from her home in Alexandria, Virginia on the evening of January 12th, 2018. She reportedly abruptly left the home on foot after receiving a text message from someone, but she told her sister she would be back soon. Unfortunately, though, Jholie never returned at all. Later that night, Jholie's mother received a missed call from Jholie's phone, but when she tried to call her back, she got no response. She was never seen or heard from by family members again.
Two weeks later, Jholie's body was found in a wooded area at Woodlawn Park–located less than a mile from her home. Her death was classified as a murder. Jholie's 17 year old ex-boyfriend was identified as a person of interest in the case. Jholie apparently already had a order of protection placed against him prior to her murder. Police did not initially release his name due to his minor status and for unclear reasons he was not immediately charged with anything related to Jholie's death.Then, on August 31st, 2018, the ex-boyfriend was identified as Nebiyu Ebrahim (pictured right) after he was arrested and charged with Jholie's murder. Ebrahim's arrest came shortly after he was released from jail for assaulting Jholie prior to her disappearance.
On
June 12th, 2019,
Ebrahim pleaded guilty to first-degree murder in the slaying of Jholie Moussa. It was revealed that Ebrahim told investigators he killed Jholie in a "blind rage" after meeting up with her at a park on the night of her disappearance. He explained that he was already angry about the fact that he had been convicted of assault Jholie by choking her and slapping her in an incident prior to her murder. Ebrahim will be sentenced in September 2019. [
read more
]
2. Nicole Smith
Nicole Smith vanished near her residence in Detroit, Michigan on December 11th, 2016. The 33 year-old mother of four was reported missing after her one year-old son was found wandering alone on the corner of Plymouth Road and Warwick Street. The police were notified, and a local news channel displayed the boy's picture on their program. The boy's grandfather saw the segment and identified him as his grandson/Nicole's son. Nicole was nowhere to be found at this point and she was reported missing shortly thereafter.
Police immediately questioned Nicole's ex-boyfriend Robert Autrey (pictured right) in regards to her disappearance. He denied involvement, and police were unable to charge him with anything related to Nicole's disappearance due to a lack of evidence. Still, they found him quite suspicious as he was caught using Nicole's bridge card after her disappearance. It was also revealed that it was Autrey who dropped Nicole's infant son off at the fire station, which led to the little boy being found wandering the street alone.
Later on, Autrey was arrested on suspicion of sexual assault and faced a sentence of life in prison. At that point, Autrey confessed to investigators that Nicole's remains could be found in an abandoned apartment in Detroit's westside. Authorities recovered her remains and charged Autrey with her murder. He pleaded guilty and will likely remain behind bars for the rest of his life. [
read more
]
1. Cristina Prodan
Cristina Prodan (27) was brutally murdered by her boyfriend Joseph Porter (25) on January 4th, 2018. Joseph reportedly confessed to punching Cristina repeatedly in the face following an argument. Afterwards, he put her into a chokehold until she lost consciousness and then placed her body into a suitcase before fleeing to New Orleans to dispose of her body.
Cristina and Joseph had a bumpy relationship; Joseph was allegedly violent towards Cristina. In December 2017, Cristina took out an order of protection against Joseph. He was arrested for violating it right after it was put in place. Despite all of this, Cristina ultimately decided to let Joseph back in to her home. On January 5th, 2018, Cristina's mother requested that a welfare check be conducted at Cristina's home. Police found the Edina, Minnesota home in complete disarray, but Cristina and Joseph were nowhere to be found. Joseph's welfare was later confirmed, as police had several traffic run-ins with him over the next several days in several different states. Cristina, however, was still nowhere to be found. The search for Cristina continued, and it was eventually revealed that Joseph pawned Cristina's cell phone in Cabot, Arkansas. Police later arrested Joseph in Little Rock, Arkansas on January 6th, 2018. He had multiple burns all over his face at the time of his arrest.
After his arrest, Joseph confessed to savagely beating and choking Cristina. Joseph then admitted that he placed Cristina's body in a shipping container and then placed several tires on top of her. He used several gallons of gasoline, burning himself in the process as he attempted to burn any evidence of her body. Authorities found Cristina's remains in New Orleans shortly after this confession. Joseph was charged with kidnapping and second degree murder. He pleaded guilty in January 2019 and was sentenced to 20 years in prison. [
read more
]