Many unsolved murders and disappearances have prevailing theories about what might have happened to the victim. These theories are usually put forth by family members and/or investigators, and it is not uncommon for both to have similar theories. However, there are also cases where theories about what happened to the victim are completely divided. Below is a list of seven such cases. Some of these cases involve divided theories amongst the public, while others involve divided theories amongst family members and detectives. All of the cases remain unsolved today.
7. The Disappearance of Monica Carrasco
Monica Carrasco vanished at the age of 16 on October 2nd, 2003. At the time of her disappearance, the teen lived at her aunt and uncle's house in Balmorhea, Texas. She was last seen by her cousins during the early morning hours of October 2nd. Said cousins saw her go to bed around 11pm the previous evening and they checked on her around 1:30am. However, by 7:30am the following morning, Monica was gone. She has never been seen or heard from again.
There are quite a few differing theories about what might have happened to Monica. It was initially believed by both police and family members that Monica left on her own accord, due to the fact that her Bible vanished with her. Her aunt and uncle believe Monica became disoriented from a medication she was taking, and as a result, she left the house and accepted a ride from a passing motorist. Police, on the other hand, stated that they believe it is possible that Monica left the house to meet up with a person she met online. Monica's mother believes something entirely different--she does not believe that her daughter ran away at all. Monica had opted to live with her aunt and uncle rather than her mother due to issues the two were having, however Monica's mother stated that the issues were not that serious and she does not believe Monica would voluntarily stay out-of-touch. Additionally, it is important to note that Monica's uncle failed a polygraph exam in relation to her disappearance. However, he has not been charged with anything related to Monica's disappearance.
None of these theories have been confirmed and there have not been any publicly named suspects or persons of interest in her case. Monica remains missing today. [
read more
]
6. The Disappearance of Madeline Edman
Madeline Edman was 15 years-old when she vanished from La Crosse, Wisconsin on July 29th, 2005. She was last seen at a laundromat on St. James and Caledonia Street, where she and her mother had gone to do laundry. At some point, though, Madeline decided to walk home while her mother stayed back to finish the laundry. When her mother returned home, Madeline was gone. When she still did not return by evening, Madeline's mother reported her missing.
Madeline's family members believe that she ran away. In fact, certain agencies classify her as a runaway as well. Madeline's mother unfortunately passed away in 2010, and her obituary listed Madeline as a surviving daughter. In 2013, Madeline's grandmother announced that she believes Madeline is still alive and is just simply living estranged from her family. She stated that numerous people have told her that they have seen Madeline around town. However, the police believe otherwise. Authorities have stated that they have not gotten any tips about Madeline's whereabouts in years and they believe she might have been murdered or forced into human trafficking.
It is unclear if Madeline's family has any concrete evidence that she ran away. It is also unclear how police came to the murder/sex trafficking theory--however both theories remain prominent in Madeline's case. [
read more
]
5. The Murder of Stacy Dillon
Stacy Dillon was found murdered inside the Cleveland, Tennessee home he shared with his mother Judy Dillon on March 17th, 1991. On the weekend of the 22 year-old Stacy's murder, Judy stayed with a friend, leaving Stacy with the home all to himself. When Judy and said friend returned to the home at the end of the weekend, they found Stacy dead on the hallway floor. He had suffered a single bullet wound to the cheek. The family's landline phone was found just inches away from Stacy's body.
Police were immediately called, and it did not take long for Stacy's death to be ruled a homicide. In the early stages of the investigation, detectives theorized that Stacy was in a relationship with a male, but was keeping it a secret from the members of his conservative town. Detectives believe it is possible that Stacy was killed by said man, as there was no sign of forced entry at the Dillon home. This suggests that Stacy was killed by a person he knew. Judy Dillion rejected this theory and continuously denied that her son was gay. The case appeared to go cold after that and it was eventually closed.
Finally, in 2011, the case was reopened with a new team of detectives. They re-visited the earlier theory that Stacy's hidden sexuality might have played a role in his murder. In fact, detectives were also able to identify a person of interest...he happened to be the same person of interest who had been questioned by police 20 years earlier. Said person has never been publicly identified. When this information was presented to Judy, she once again denied that her son was gay and does not believe a romantic relationship played a role in Stacy's murder. His case remains unsolved today. [
read more
]
4. The Disappearance of Keiosha Felix
Keiosha Felix was only 15 years-old when she vanished on April 30th, 2012. Keiosha had a one year-old daughter at the time, and prior to her disappearance, the two of them were living in a group home for teenage girls who are pregnant or have young children. The weekend before she vanished, Keiosha got a weekend pass to visit her paternal aunt Patricia Andrus. She was last seen leaving Patricia's Duson, Louisiana home and she has never been seen or heard from again.
Keiosha was initially classified as a runaway. Patricia's daughter/Keiosha's cousin Portia Felix claimed to have heard from Keiosha after April 30th, and that Keiosha said she was "just fine". However, as the investigation continued, the Duson Police Department learned more information about Keiosha's relationship with her aunt Patricia's boyfriend, Leon Wilkerson Jr. Before vanishing, Keiosha allegedly told Patricia that Leon had sexually assaulted her. Patricia never reported this to the authorities, nor did she tell investigators about it after Keiosha went missing. In July 2012, Leon was arrested and charged with rape and second-degree kidnapping in connection with Keiosha's disappearance. Patricia was arrested and charged with improper supervision of a minor and accessory to rape. Keiosha's cousin Portia, who told investigators that she heard from Keiosha after her disappearance, was arrested and charged with obstruction of justice. In August 2012, Leon's brother Ronald Wilkerson was also arrested and charged with kidnapping in connection with Keiosha's case.
Although Keiosha remained missing, it appeared that investigators were building a pretty solid case against the arrested suspects. Then, in September 2012, it was revealed that Duson PD's Lt. Gerald Credeur had mishandled the investigation. The Board of Alderman determined that Credeur made illegal searches and arrests without probable cause. He was fired the following month. The charges against Leon and Ronald Wilkerson were dropped. In April 2013, it was announced that the charges against Patricia and Portia had been dropped as well.
Many still believe that Leon, Patricia, Portia, and Ronald are involved in Keiosha's disappearance, however investigators have since turned their attention to a different person.
They are now focusing on an unidentified man who was spotted in an AT&T store in Lafayette, Louisiana shortly after Keiosha's disappearance. The man purchased a SIM card at the store, and said card was later used with Keiosha's password. Investigators stated that this man is currently not a suspect, but they believe he may have information about Keiosha's disappearance. Her case remains unsolved. [
read more
]
3. The Murder of Vanessa 'Honey' Malone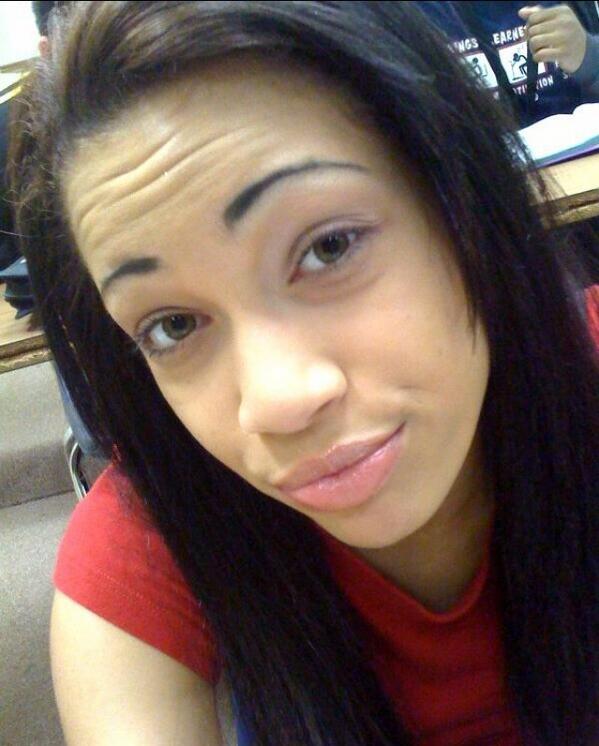 Vanessa "Honey" Malone was murdered during what has been labeled as a "robbery gone bad" on October 23rd, 2012. The 18 year-old lived with her family in Stone Mountain, Georgia at the time. on the night of her tragic death, Honey told her mother she was going to hang out with some new friends at an apartment building close to her home. Unfortunately, she was killed within seconds of walking into the apartment. Honey was shot multiple times before her body was dragged to a closet and left there.
Detectives concluded that Honey walked into the apartment in the midst of a robbery and was likely killed while trying to flee the scene. Minutes after she was shot, a man and a woman who were inside the apartment called the police. They told officers that a group of three-to-six men busted into the apartment and tied them up with shoelaces and extension cords. They were then forced into the bathroom. The pair allegedly heard Honey enter the apartment and then heard the gunfire that followed, however they told police that they waited until they heard the suspects leave the apartment before they untied themselves and called 911. Many have questioned this for numerous reasons. The only item that was actually stolen was Honey's cell phone, but it was located on the ground less than half a mile away. Nothing else was reported stolen from the apartment. However, police believe that this was a drug-related robbery and that the pair did not report anything stolen from the apartment because they would not report drugs as stolen. They believe that Honey was simply in the wrong place at the wrong time.
Honey's family members have a different theory.
Honey's sister stated that she believes Honey was targeted and was killed for possibly knowing information that the perpetrators did not want to be made public. Police still maintain that this was a robbery, but due to the fact that the killers have not been caught, the case remains unsolved. [
read more
]
2. The Murder of Egypt Covington
Egypt Covington was found murdered inside her Van Buren Township, Michigan home on June 22nd, 2017. The 27 year-old woman was found by her boyfriend Curtis Meadows--she was facedown on the floor and she had been shot to death. Her arms were bound behind her back with Christmas lights.
Police inevitably looked into Egypt's boyfriend Curtis as a suspect, but he was eventually cleared of suspicion. Then, police started looking at her ex-boyfriend Kenny Michalak as a suspect. Curtis and Egypt had been dating off-and-on for about 10 years, and Egypt dated kenny during a time she was "off" with Curtis. Kenny was reportedly very controlling and verbally abusive towards Egypt. He was also quite angry when he learned that Egypt had reconciled with Curtis. Police have publicly named Kenny as a person of interest in Egypt's murder.
However, Egypt's mother Tina Covington does not believe that Kenny is responsible for Egypt's death.
While she acknowledges that Egypt and Kenny had a toxic relationship, she believes that police named him as a person of interest due to pressure to blame somebody for the crime. Tina believes that there is another suspect out there who has gone unnoticed. There have still not been any arrests in Egypt's case, which remains unsolved. [
read more
]
1. The Disappearance & Death of Megan Nichols
Megan Nichols vanished from her home in Fairfield, Illinois on July 3rd, 2014. The 15 year-old was last seen by her mother Kathy Jo. According to Kathy Jo, the two planned to run errands together, but Megan stayed back after claiming that she wasn't feeling well. Kathy Jo said that when she returned from the errands an hour later, Megan was gone. She left her phone in her bedroom—which had been completely reset—and a note for her mother that said, "I love you, but I will never be happy here. Don't look for me."
Over the next three years, there were many searches for Megan in Fairfield and many other surrounding areas that turned up nothing. Police initially classified Megan as a runaway, but changed her status to endangered missing after years went by without any trace of Megan. Finally, on December 26th, 2017, remains were found in a wooded area in Wayne County, Illinois. A month later, those remains were confirmed to be Megan's. Despite the belief that Megan had run away, it is likely that she never left the Wayne County area.
Details about Megan's death are still quite mysterious, and
theories about what might have happened to her are quite divided
. Megan had been in contact with an older boyfriend in the months prior to her disappearance, and
many believe that he had something to do with her disappearance and death.
Megan had also been at odds with her mother in the weeks leading up to her disappearance, as Kathy Jo had found out about Megan's relationship with the older boyfriend and had forbidden her from contacting him.
Others have theorized that Kathy Jo might know more about Megan's disappearance and death than she has admitted.
Neither theories have been confirmed and Megan's case remains unsolved. [
read more
]