People rely on police and other investigative professionals for many things. Police are expected to protect citizens from danger to the best of their ability, while detectives are expected to help solve cases such as murders, missing persons, etc. However, there are cases in which these professionals end up causing more harm than help throughout the investigation. Some cases are jeopardized by lack of action by police and/or investigative professionals, while other cases are jeopardized when police do not follow legal protocol while investigating. The following list contains 8 cases containing a miscarriage of justice. Some of these cases are solved, some remain unsolved, but all were impacted by the actions (or lack thereof) by investigative professionals.
18 year-old Ebby Jane Steppach vanished on October 24th, 2015 in her hometown of Little Rock, Arkansas. Her disappearance followed a series of unfortunate and odd events, which made her case all the more suspicious--but many still accused the police of not taking the investigation seriously. The day before she vanished, Ebby told her stepfather that she had been sexually assaulted and that she planned to file a police report. Before she could do that, Ebby vanished.

A few days later, her car was found abandoned at Chalamont Park. The car was running, but Ebby was nowhere to be found. Her belongings, including her cellular phone and contact lenses, were found inside the car.
Despite these suspicious circumstances, police initially treated Ebby's case as a runaway. However, Ebby's family members and friends never believed that she ran away. In fact, Ebby's close friend Kailey Foley was incredibly worried, as she knew it was uncharacteristic for Ebby to be out-of-touch--even if just for a day. Just days into the investigation, Kailey and her mother Margie Foley decided to
go to Chalamont Park themselves to see if they could find any clues.
The two did not walk very far into the park before Margie said she was "hit with the smell of decomposition coming from a nearby drain." Margie immediately called the detective who was working Ebby's case, but he did not answer. Margie then called 911 and asked somebody to come investigate. She ended up calling 3 times before Little Rock Police finally showed up on the scene. However, once they were there, they dismissed Margie's claims. When she expressed concern that the smell might be related to the case, an officer told her, "This park was gone through with dogs and they would have picked up on that. It must be an animal or something."
As it turns out, Kailey's mother was correct all along. Ebby's remains were found in the same drainage pipe almost three years later, in May 2018. It's likely that Ebby was there the whole time. If the police had investigated when they were first asked, Ebby could have been found years earlier. Police have declined to make any acknowledgements or comments about the case.
Today, Ebby's case is being investigated as a murder and it remains unsolved. [read more]
7. The Disappearance of Keiosha Felix
Keiosha Felix was only 15 years-old when she vanished on April 30th, 2012. The teen was last seen leaving her aunt Patricia Andrus' home in Duson, Louisiana. Police were quick to label Keiosha as a runaway, however as the investigation continued, she was reclassified as an endangered missing person. While investigating, detectives learned that Keiosha had told her aunt Patricia that Patricia's boyfriend Leon Wilkerson Jr. had sexually assaulted her. This raised many suspicions against both Leon and Patricia, especially because Patricia never reported the alleged assault, nor did she tell investigators about it after Keiosha went missing. In July 2012, Leon was arrested and charged with rape and second-degree kidnapping in connection with Keiosha's disappearance. Patricia was arrested and charged with improper supervision of a minor and accessory to rape. Keiosha's cousin Portia Felix, who told investigators that she heard from Keiosha after her disappearance, was arrested and charged with obstruction of justice. A month later, Leon's brother Ronald Wilkerson was also arrested and charged with kidnapping in connection with Keiosha's case.
It seemed as if investigators were getting closer to finding answers in Keiosha's case...but then, the investigation took an unexpected turn. In September 2012, Duson PD's Assistant Chief of Police, Lt. Gerald Credeur, was removed from the investigation and suspended from duty. Lt. Credeur had been left in charge of handling Keiosha's case, but in September 2012 the Chief of Police Frank Andrew told the Duson Board of Aldermen that Credeur had improperly handled the case. Chief Andrew explained that Credeur had illegally arrested two people for kidnapping, given false testimony and made an illegal search and seizure during the investigation. The Board of Alderman determined that Credeur did, in fact, make the searches and the arrests without probable cause and he was fired the following month. The charges against Leon and Ronald Wilkerson were dropped. The following year, the charges against Patricia and Portia were dropped as well.
Many still believe that Leon and Patricia are involved in Keiosha's disappearance and that they are free only because the police botched the investigation. Investigators have acknowledged this, however they have stated that they are currently focusing on finding Keiosha rather than filing criminal charges against anyone in her disappearance. Keiosha remains missing today. [read more]
6. The Disappearance & Murder of Jill Behrman
Indiana University student Jill Behrman vanished at the age of 19 on May 31st, 2000. The young woman left her Bloomington, Indiana home on her bicycle that day and never returned home. Two days later, her bicycle was found abandoned in a field north of town.
The police were mislead in Jill's case from the beginning. In 2001, a a woman named Wendy Owings came forward and stated she was in the car with another woman named Alisha Sowders and a man named Uriah Clouse when they hit Jill while driving around under the influence of alcohol and drugs. Wendy told authorities that Jill was not dead after she was hit, but they believed she significantly injured so the women decided to kill her. Wendy claimed they dumped Jill's body in a creek and then abandoned her bicycle on the other side of town. However, in March 2003, Jill's remains were found in a remote area of Morgan County. She was not found in the creek where Wendy claimed she had been dumped. An autopsy also revealed that Jill's injuries were not consistent with being struck by a vehicle. In fact, Jill had died of a gunshot wound to the back of her head. At that point, Wendy changed her story and denied her involvement in Jill's death.

Eventually, investigators focused on another suspect: John Robert Myers II. In March 2006, a grand jury began an investigation into Jill's disappearance and death. About a month later, on April 9th, 2006, Myers was arrested and charged with Jill's murder. Little information was revealed about any direct evidence that linked Myers to the crime, and he pleaded not guilty to the charges. In October 2006, Myers went to trial and was ultimately found guilty of Jill's murder. He was sentenced to 65 years in prison.Years later, in September 2019, a District Court judge in Indianapolis took another look at the case and ultimately decided to vacate the murder conviction against Myers. The decision came after it was deemed that Myers received "ineffective assistance of counsel" during his trial, which is a violation of Sixth Amendment rights. It was also determined that Myers' attorneys made inaccurate statements to the jury during opening statements.
After years of thinking justice had been served, Jill Behrman's family is back at square one. Jill's mother still believes Myers is responsible and hopes that the State will decide to retrial him. [read more]
5. The Murder of Stacy Dillon
Stacy Dillon was only 22 years-old when he was found murdered inside his mother's Cleveland, Tennessee home on March 17th, 1991. Stacy was alone at the home the previous night and for most of the day on March 17th. When his mother returned that evening, a horrific discovery was made: Stacy was dead on the hallway floor. He had suffered a single bullet wound to the cheek. The family's landline phone was found just inches away from Stacy's body. Police were immediately called, and it did not take long for Stacy's death to be ruled a homicide. Despite this ruling, there were still many unanswered questions. A murder weapon was never found, and the medical examiner never conducted an autopsy on Stacy's body. It is unclear why an autopsy was never conducted, and to this day it is still seen as an obvious oversight in the case.
Stacy's case quickly went cold. However in 2011, two decades after the crime occurred, the case was reopened with a new team of investigators. This new team of detectives has focused on a theory that Stacy was secretly in a relationship with a man that might have had something to do with the murder. Investigators have labeled this man as a person of interest in the case, but he has never been publicly identified.
Additionally, when the case was reopened in 2011, investigators noted that
there was mention of a confidential informant named 'Becky' in the previous files on Stacy's murder. 'Becky' reportedly saw one of the suspects on the night of the murder. At this time, the new investigators are unaware of Becky's true identity, but they are hoping to identify her and speak with her.
It is clear that a lot of evidence was either overlooked or never followed up on during the early stages of the investigation. This makes it difficult for the new team of investigators to follow leads, especially since they were assigned the case over two decades later. Stacy's murder remains unsolved today. [read more]
4. The Murder of Tiana Notice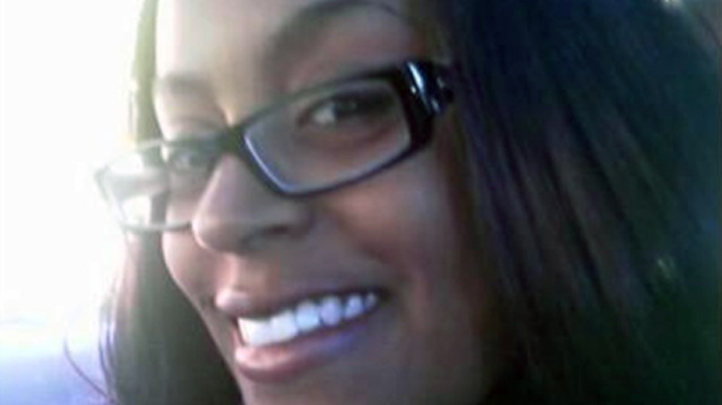 Tiana Notice was only 25 years old when she was brutally murdered by her ex-boyfriend James Carter II on February 14th, 2009. Tiana had broken up with James months earlier, but James continued to harass her after their relationship ended. Tiana would frequently spot him sitting in his car outside of her apartment building and following her while she took shopping trips. When Tiana finally confronted James about it, he grew so irate that he actually took a restraining order against her--claiming that he had been assaulted by her.
Still, the harassment continued. Even though James took the restraining order out on Tiana, he continued to send her emails that contained threats for her life. Tiana went to police after receiving these emails to report James for violating the restraining order.
The police did not take her seriously, and she was told that the emails that James sent were non-threatening.
James continued to harass Tiana via phone and email
, and she repeatedly went to the police for help.
According to Tiana's mother, she went to the police 33 times in a 6-week period, but no action against James was ever taken--even after he vandalized her car.
In the days leading up to her murder, Tiana found a handwritten note on her apartment door that she was sure was from James.
Tiana once again turned the note over the police, claiming that James had yet again violated the restraining order. At this point, police finally decided to take action, and they called James and asked him to provide a handwriting sample. Unfortunately, the police got involved too late.
James grew enraged once he realized that Tiana had called the police on him. On February 14th, 2009, James lurked around Tiana's apartment complex waiting for her to come home. Once she arrived, James ambushed Tiana and stabbed her 20 times before fleeing the scene.
James was eventually arrested and charged with Tiana's murder. He is currently serving a 60 year sentence. Although Tiana did receive justice in her case, many have criticized the police for not taking her initial reports about James seriously. If police had intervened in her case earlier, there's a chance that Tiana might still be alive today. [read more]
3. The Murders of Amber DuBois & Chelsea King
Amber DuBois (14) and Chelsea King (17) were both murdered by a registered sex offender named John Albert Gardner II in Escondido, California. Amber vanished while walking to school on February 13th, 2009. The following year, in March 2010, Chelsea vanished while going for a run around Lake Hodges--located just 10 miles away from where Amber disappeared. Parts of Chelsea's clothing were found scattered around the lake's trails shortly after her disappearance. Investigators found DNA that matched Gardner--who had already been in the CODIS system--on Chelsea's sock. Gardner was taken into custody and Chelsea's remains were found near the lake just days later. Three days after that, Gardner admitted to being involved in Amber's disappearance as well--and her remains were found in a remoted, rugged area north of San Diego.
Gardner was already a known sex offender at the time the murders occurred. When he was 21 years old, he was convicted for molesting a 13 year-old neighbor. He was sentenced to eight years in prison, but he only spent five years behind bars and was released in 2005. Gardner completed his parole in 2008, but it was later revealed that he had violated it several times. If Gardner had been apprehended for his numerous parole violations, there's a chance he would have been behind bars during 2009 & 2010--and Amber and Chelsea might still be alive today.
During the spring of 2010, Gardner received life in prison for both murders, plus an additional 25 years for an unrelated sexual assault case. [read more]
2. The Case of Emilie Morris & Jim Wilder
Emilie Morris was a high school student and star athlete at Lindbergh High in St. Louis, Missouri when she met Jim Wilder. The year was 1995--Emilie was only 15, and Wilder coached her on the cross-country team. At some point, their relationship turned inappropriate....and according to locals, it was not a secret. A former classmate of Emilie's stated that their relationship was something of an "open secret" that many people knew about but very few people spoke about. Still, in 1996, the principal at the school was tipped off about their relationship. Both Emilie and Wilder denied having anything other than a coach-athlete relationship, and a "complete investigation" was conducted that apparently concluded that nothing inappropriate happened between the two.
As time went on, many noticed that Emilie grew depressed and suffered from low-self esteem. She struggled with an eating disorder that developed while she was in college--which many attributed to Wilder's harsh criticism of Emilie's body while she was in high school.
Emilie's troubles followed her into her adult life. For Wilder, on the other hand, things did not appear to change at all. He continued to teach and coach at Lindbergh High, and in December 2008, he was arrested based on a report that he had sexual contact with a current female student. Emilie knew the allegations were likely true, but she did not want to get involved and have to relive her own painful memories all over again...so as a result, she stayed quiet when she heard about Wilder's arrest. The charges against Wilder were unfortunately dropped a few months later, and he returned to his job at Lindbergh High.
Emilie's troubles continued in the years that followed. She began struggling with alcoholism, and by the year 2012, her husband divorced her and gained full custody of their two children. Determined to turn her life around, Emilie finally decided to confide in her family members about what had transpired between her and Wilder all those years earlier. With encouragement from her loved ones, Emilie decided to turn Wilder in to the police. As part of the police investigation, Emilie was asked to have a conversation with Wilder while wearing a microphone to see if he would admit to their inappropriate relationship. The plan worked seamlessly, and Wilder was eventually arrested and charged with six counts of statutory sodomy.
In November 2014, the case was still pending. Unfortunately, November 4th, 2014, Emilie was found dead; face down on her bedroom floor with a large trash can pulled over her head. She died from asphyxiation from the plastic bag lining the trash can, but her manner of death was left undetermined by the county medical examiner. After Emilie's death, the charges against Wilder were dropped. The prosecutor ultimately stated that they needed Emilie's testimony in order to win the case, and they could no longer obtain that since she had passed away. Wilder remains free today.
The miscarriage of justice in this case began decades earlier, even before Wilder and Emilie met. Emilie was reportedly not Wilder's first inappropriate relationship with a student, and if the 2008 allegations are true, she was not his last either. If proper intervention had taken place when the rumors of Wilder's inappropriate relationships first began, there's a chance Emilie and Wilder might have never met. [read more]
1. The Murder of Lauren McCluskey
University of Utah student Lauren McCluskey (21) was murdered by her ex-boyfriend Melvin Rowland (37) on October 22nd, 2018. The two had only dated for about a month, during which Lauren found out that Melvin had lied to her about a plethora of things--including his name, age, and criminal history. Once Lauren learned that Melvin had been convicted of
f
orcible attempted sexual assault and enticing a minor, she decided to end her relationship with him.
In the days that followed, Lauren began to receive harassing and threatening messages. She contacted police on October 12th
to report that she was receiving text messages that stated Melvin was dead, and that it was her fault. She explained that she was able to verify via social media that the messages were untrue; but she still felt that Melvin's friends were trying to lure her out of her dorm. The following day,
Lauren contacted campus police again, and told them that she was receiving text messages from someone threatening to post explicit pictures of her and Melvin together unless she paid them $1000. She ended up wiring the money before she went to Public Safety building to file an official complaint.
Six days later, on October 19th, a police detective called Lauren to follow up on the extortion case. By that point, she had received more threatening messages, and she told the detective that she was sure Melvin was the one trying to extort her. The detective told her it would take "some time" for Melvin to be arrested because the subpoenas needed to be filed. Lauren began to fear for her safety, and she contacted the police later that evening to express concern that things were not moving fast enough in her case. Unfortunately, Lauren was correct. On the evening of October 22nd, 2018, Lauren was on the phone with her mother as she walked to a night class when she was confronted by Melvin in the parking lot. He grabbed her, causing Lauren to drop all of her personal belongings, and dragged her to a nearby car. Once Melvin forced Lauren inside the car, he drove away and then he shot her multiple times in the head, killing her.
Once Lauren was found deceased, police rushed to locate Melvin. He was spotted shortly before 1am that morning. During a foot pursuit, Melvin ran into a nearby church and shot himself in the head.Police were unfortunately never able to charge Melvin for Lauren's murder. Many people feel that the police failed to protect Lauren. In a written statement, her parents said, "There were numerous opportunities to protect her during the almost two weeks between the time when our daughter began expressing repeated, elevating, and persistent concerns about her situation and the time of her murder." [read more]