Amber DuBois (age 14)
Amber DuBois disappeared while walking to school on February 13th, 2009. The 14 year-old left her Escondido, California home around 7am that morning and began heading towards Escondido High School, where she was enrolled as a freshman. Around 7:10am, two separate sets of parents reported seeing Amber walking towards the school. However, when the school's bell rang at 7:30am, Amber was not in class as expected. The school called Amber's mother to notify her of Amber's absence, but the message was not heard until 4pm when her mother's boyfriend returned home from work and realized Amber was not there. She was reported missing shortly thereafter.
The first evening of her disappearance, Amber's mother had Verizon Wireless reset the password on Amber's cell phone so she could access her daughter's voicemail. Nothing of significance was found within her messages. Then, the following day, Amber's cell phone was turned on for less than 30 seconds, pinging off a cell tower in North Escondido. Whoever turned her phone on tried to access voicemail but could not because the password had already been reset. The phone was turned off immediately after that.
As time passed, police had very few leads to work with in Amber's case. They then began to focus on the people inside Amber's home–more specifically, her mother's boyfriend Dave Cave. Amber and Dave had not been getting along in the months prior to her disappearance, but they had apparently called a truce shortly before she vanished. Dave adamantly denied being involved in Amber's disappearance, but that did not stop Amber's mother from having doubts. Six weeks after Amber was reporting missing, her mother broke up with Dave and moved out of his home. She maintained that she did not believe Dave had carried out a premeditated plan to kill Amber, however she felt there was a possibility that something bad could've happened to Amber during a confrontation with Dave that was covered up.
Dave remained a person of interest in the public eye for the next year as Amber remained missing. Then, on February 2010, another young girl from the area went missing: 17 year-old Chelsea King.
Chelsea King
On the afternoon of February 25th, 2010 Chelsea went for a run near Lake Hodges–just 10 miles from where Amber disappeared–and never returned home. Police immediately searched the area where Chelsea was last seen and found a pair of her socks and her underwear. Those items were sent to forensic testing, where investigators found a DNA match to somebody who was already in CODIS: registered sex offender John Albert Gardner III. Police brought Gardner into custody as the search for Chelsea continued. Then, on March 2nd, 2010, police announced that Chelsea's body was found in a shallow grave located just 10 feet from the lake's shore. Gardner was then charged with rape and murder in Chelsea's case. He was also charged with the attempted rape of another woman at Lake Hodges months before Chelsea's disappearance. He pleaded not guilty to both charges.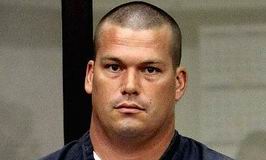 John Albert Gardner III
Police inevitably questioned Gardner about Amber's disappearance as well. While he initially denied involvement, he eventually lead investigators to Amber's remains in a rugged, remote area of north San Diego on
March 5th, 2010
. Gardner was then charged with Amber's abduction and murder as well. After this, prosecutors began seeking the death penalty against him.
The next month, Gardner was offered a plea deal which he accepted. On April 16th, 2010, Gardner plead guilty to both Amber and Chelsea's murders in exchange for the death penalty being taken off the table. In court, Gardner admitting to kidnapping, raping, and stabbing Amber to death in February 2009. He also admitted to dragging Chelsea to a remote area around Lake Hodges, where he went on to rape, strangle, and bury her there in February 2010.
Prior to his sentencing, Amber's mother decided to meet face-to-face with Gardner inside the San Diego jail. She wanted to ask him for an explanation of what, exactly, happened to her daughter on February 13th, 2009. Gardner told her that he was angry about some things going on in his personal life that morning and went looking for a victim near Escondido High School. He spotted Amber walking in an area where no houses close enough for people to hear her scream, which is why he chose her as his victim. Amber's mother later told reporters that Gardner told her how he got Amber into his car that morning. She explained, "Gardner pulled up and threatened her with a knife and said to get in the car or something worse would happen." He took her to the remote area where she was eventually found, then raped, stabbed, and buried her there.
At his sentencing a few days later, Gardner was sentenced to life in prison for both murders, plus an additional 25 years for the attempted rape charge. He remains incarcerated at Mule Creek State Prison in Ione, California.