Mike Williams with his wife Denise Williams on their wedding day in 1994
Denise Merrell Williams (pictured right) had been married to her husband Mike Williams (pictured left) for 6 years when Mike disappeared on December 16th, 2000. According to Denise, Mike left their Tallahassee, Florida home that morning to go duck hunting on Lake Seminole. When he still was not home around 12pm, Denise and her father drove over to the lake to look for him. There, they found Mike's car parked near a remote boat landing on the lake, but Mike was nowhere to be found. Authorities were alerted and a search and rescue team began their search shortly thereafter. During that search, Mike's boat was found abandoned around a cove not far from the boat landing. After this discovery, it was believed that Mike had fallen off his boat and drowned.
However, as time went on and Mike's body never surfaced, people began to question that theory. There had previously been around 80 known drowning deaths at Lake Seminole, and each person's body had eventually been found after they floated to the surface. Mike's body never surfaced, so it was theorized that he might have possibly been dismembered and hidden by alligators. Although there was no concrete evidence of this, Mike was declared dead 6 months after his disappearance. Denise collected her deceased husband's insurance policy, for which she received $1.5 million. She later went on to marry her husband's best friend, Brian Winchester (pictured below).
Brian Winchester


Brian and Denise eventually separated in 2012. Denise filed for divorce in 2015. Brian objected, but was ordered by the court to comply. On August 5th, 2016, as Denise went to drive to her job at a university, she noticed that Brian had snuck into the backseat of her car. He held her at gunpoint and ordered her to drive around. He eventually told her that he had no intentions of killing her, however he threatened to kill himself if she went through with the divorce. After he calmed down, Denise drove him back to where his own car was parked and dropped him off. She promised him that she would not tell the police, but did so anyways immediately after dropping him off.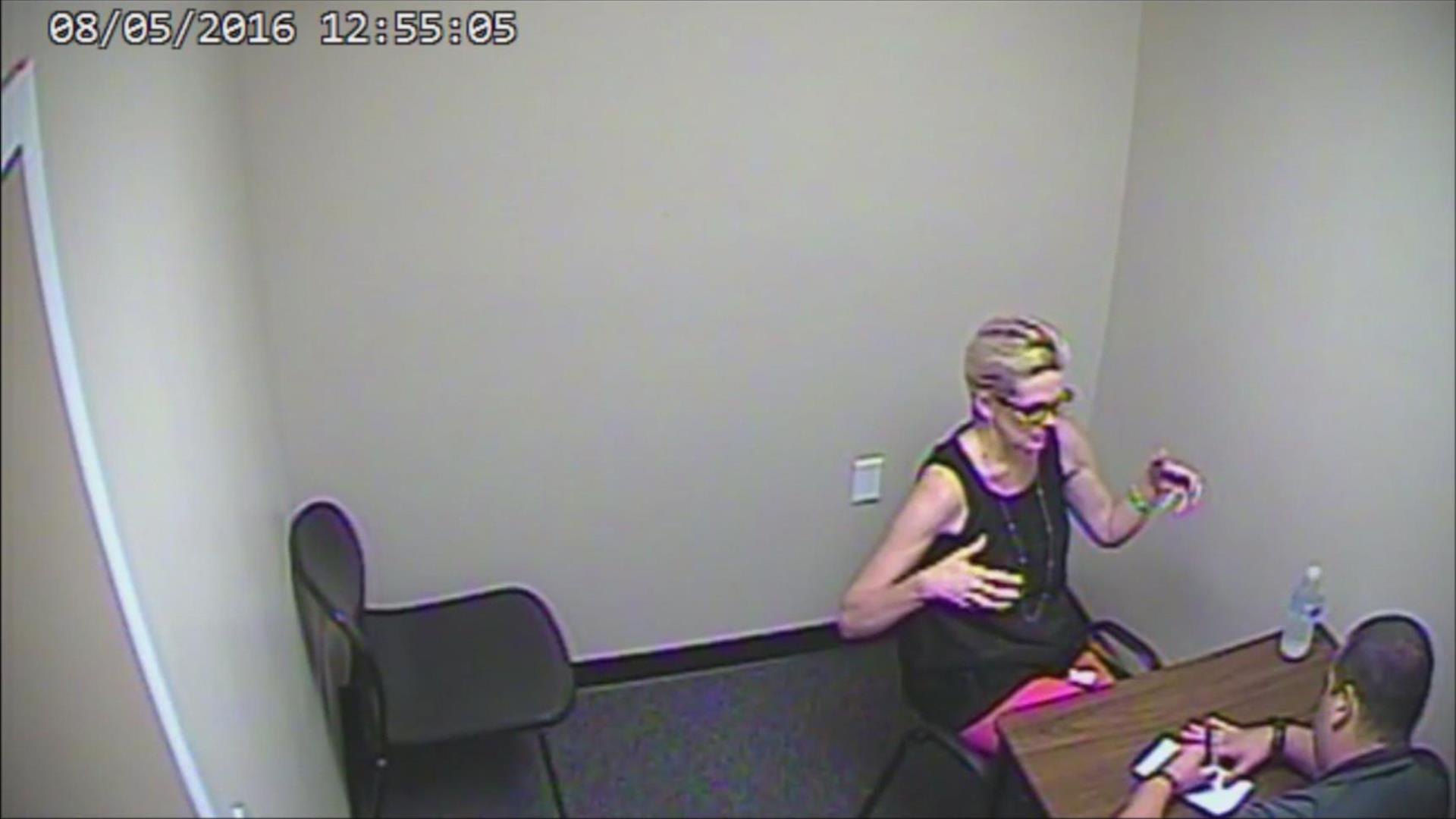 Denise reporting the kidnapping to detectives


Police arrested Brian and interviewed various people known to him. One friend in particular told the police that Brian was concerned that Denise might tell the police the truth about "a guy who had died 15 or so years ago." Eventually, though, Brian revealed the truth himself.
In October 2017, Mike's remains were found buried six feet under mud and waste near the boat landing. Authorities did not immediately comment on how exactly he died, but they said he did not drown or get eaten by alligators–he was murdered. At that time, they did not announce any suspects or persons of interest in the case. In December 2017, Brian was sentenced to 20 years for kidnapping Denise. Then, five months later, on May 8th, 2018, Denise was arrested and charged with first-degree murder, conspiracy to commit first-degree murder and accessory after the fact. Brian, who was already in jail for the kidnapping, had apparently confessed to their involvement in Mike's case.
After Denise's arrest, more information about Mike's disappearance and death came to light. After being offered immunity in the case, Brian confessed to his involvement in Mike's murder and implicated Denise in the process. Brian told investigators that he and Denise had been having an affair since 1997. Both were cheating on their respective spouses, but claimed they had fallen in love for one another and wanted to be together. Denise, however, refused to get a divorce due to appearances. She didn't want anyone to think she didn't have a perfect life and marriage. According to Brian, the two decided that the only way they could be together was if Mike died. Mike's death would benefit the two financially as well; Brian had recently convinced Mike to buy a hefty life insurance policy that Denise could collect following his death. Brian and Denise came up with the plan for Brian to take Mike duck hunting. Brian would push Mike into the water while Mike was wearing waders that would cause him to sink and subsequently drown. They decided this would take place on December 16th, 2000.
Things did not go according to plan. Brian told investigators: "I got him to stand up and I pushed him into the water – he, he got his jacket off and his waders off and he was in a panic, obviously. I was in a panic. I was driving the boat –and I didn't know what to do – and I ended up shooting him." Brian then retrieved Mike's body from the water and later buried him in the waste near the boat landing.
Brian apparently never told Denise the truth about what really happened to Mike, and Denise never wanted to know. After Brian and Denise's marriage fell apart, Denise still promised that she would never reveal their involvement in Mike's death. Even after Brian was charged with kidnapping her, Denise still kept that promise. Brian, however, did not. While in custody for the kidnapping, Brian was questioned about Mike's disappearance and ultimately offered immunity for the truth about what really happened to him. Brian confessed, which subsequently led to Denise's arrest.
Denise went to trial in December 2018. Almost 18 years to the day of Mike's murder, Denise was found guilty for her role in his death. A Florida jury deliberated for around 8 hours before reaching a verdict, however they all unanimously convicted Denise for plotting to kill her husband with Brian Winchester. She was sentenced to life in prison.
-
UPDATE: In November 2020, the appeals court overturned Denise's first-degree murder conviction. The court ruled that "the state did not produce "competent" and "substantial" evidence to prove that Denise Williams was a principal to murder under state law." However, Denise still remains behind bars on a 30 year sentence for conspiracy to commit murder.
-