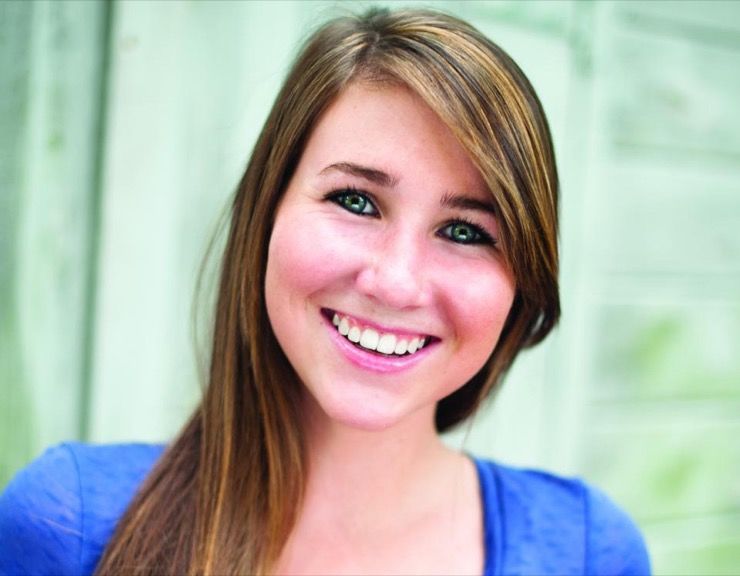 Lauren Astley and Nathaniel Fujita began dating when they were sophomores in high school. The two teens from Wayland, Massachusetts appeared to be a great match at first. Nathaniel was a football player and Lauren was described as the girl-next-door by her friends. The couple had many mutual friends and were part of a tight-knit social group. However, as time passed, Lauren began to go back-and-forth on her feelings for Nathaniel. According to her friends, Lauren would gush over Nathaniel one week, then vent her frustrations over him the next week. She would tell them things such as, "Nate's so cute. He was so cute and fun last night," or to the other extreme, she would say "He was so boring, he was on his phone the whole time, I'm so annoyed, I'm over it." Lauren and Nathaniel began to fight frequently, and they would go through cycles of breaking up and getting back together repeatedly throughout their relationship.
Lauren and Nathaniel pictured together in 2010
Lauren decided to end her relationship with Nathaniel for good on her 18th birthday–April 1st, 2011. She was ready to move forward with her life and was looking forward to going to college in the fall and meeting new people. Nathaniel, on the other hand, was not accepting of the break-up and many of his friends said he grew very depressed after their relationship ended. According to his childhood friend, Nathaniel was no longer looking forward to college, and nothing seemed to matter to him anymore.
Lauren tried to remain friends with Nathaniel, and he was invited to the graduation party that Lauren and her friends threw in the beginning of summer 2011. Nathaniel was reportedly intoxicated at the party and got angry with Lauren when he saw her talking to other guys. He angrily approached her and tried to get her to talk to him, but she refused and asked him to leave her alone. Lauren's mother, who was at the party, stated "[Lauren] came to me crying, and said, 'He will not leave me alone. He's harassing me, he doesn't want me to dance with anybody." Nathaniel's rage continued to build and he ended up angrily punching one of the poles holding up the tent that the 150 partygoers were gathered under. The tent collapsed and Nathaniel was asked to leave the party.
As the summer continued, Nathaniel's depression worsened. His family noticed that he stopped hanging out with his friends and began to drink heavily. Nathaniel's mother was deeply concerned for her son–so much so that she showed up at Lauren's work and asked her to talk to Nathaniel to try and figure out what was going on with him. Lauren agreed, and arranged to meet up with Nathaniel at his family's home on the evening of July 3rd, 2011.
Lauren sent her final text message at 7:05pm that evening, it simply said "Here," to indicate that she had arrived at Nathaniel's house. Once inside the home, Nathaniel brought Lauren into the garage where he slit her throat and then strangled her with a bungee cord. He then drove Lauren's car a quarter of a mile away to Town Beach and dumped her keys in a storm drain. Nathaniel then ran home, put Lauren's body in his car, and then drove to a secluded marsh and dumped her in the water.
After Lauren's family reported her missing, it didn't take long for police to identify Nathaniel as a person of interest. When police went to his house for questioning, they took a look around and found bloodstains in the garage and a gym bag full of wet, bloody clothes. The next day, Lauren's body was found in the marsh. The following morning, Nathaniel was arrested and charged with murder.
At trial, prosecutors stated a clear motive for Lauren's killing: Nathaniel was angry that his girlfriend broke up with him, so he killed her out of rage. Nathaniel's defense team argued that he was suffering a massive depressive episode at the time of the murder, and for that reason he should be absolved of criminal responsibility. The jury ultimately agreed with the prosecution and found Nathaniel guilty of all charges. He was sentenced to life in prison.
-