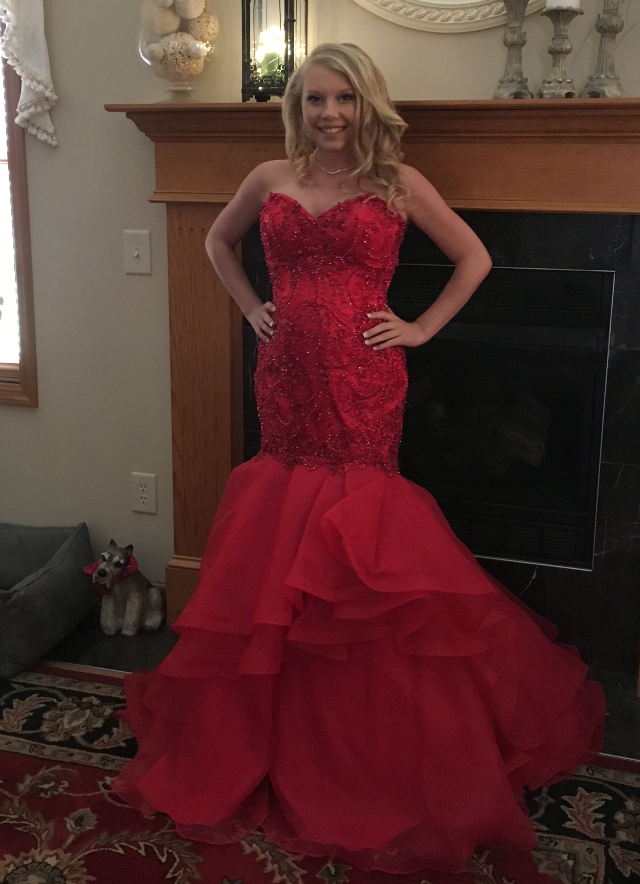 18 year-old Brooke 'Skylar' Richardson before her senior prom in May 2017. She gave birth by herself in her family's bathroom just hours later.
Despite visible bump in the photograph, Skylar's friends and family did not know about her pregnancy. In fact, Skylar gave birth at her family's Carlislie, Ohio home without anyone ever knowing—until she visited an OB/GYN in July of 2017 and told the doctor that she had recently given birth to a stillborn baby. The doctor alerted authorities after Skylar's visit, and on July 14th, 2017, police found the baby's remains buried in the Richardson's backyard. At the time, they believed that the baby had been stillborn. However, on July 20th, authorities announced that they found evidence that the baby girl was actually alive at birth, and that they believed Skylar had killed the baby shortly after she was delivered. Skylar was subsequently arrested and charged with murder.
Warren County prosecutor David Fornshell states that he believes many people in Skylar's life had a "strong suspicion" that she had been pregnant, but that they never had confirmation. He also believes that Skylar's motivation behind hiding the pregnancy/baby had to do with the fact that her family is "obsessed with appearances." Skylar's other family members now claim that, in hindsight, she does look pregnant in her prom pictures, but they simply thought she was just "eating good." In fact, they were happy to see that Skylar had gained a little weight, since she had previously suffered from an eating disorder. Skylar's family also believes that the baby was stillborn and that Skylar did not murder the baby.
Skylar was formally been charged with aggravated murder, voluntary manslaughter, endangering children, tampering with evidence and gross abuse of a corpse. She went to trial in September 2019. During the trial, it was revealed that Skylar had struggled with an eating disorder for years, causing her menstrual cycle to be irregular. During her senior year of high school, she was in a serious relationship with a boy named Brandon, so her mother decided to take her to the OB/GYN for birth control pills. During that April 2017 doctor visit, Skylar learned that she was pregnant. According to the doctor, she panicked upon hearing the news--and asked him to still write the birth control script in order to hide the pregnancy from her mother. The doctor agreed, but only to buy Skylar some time to process the news and eventually tell her parents. Skylar was also told that she had about ten weeks before she was due to give birth.
The doctor's estimate was obviously off, as Skylar gave birth just 11 days later. She later told authorities that she was sure the baby was stillborn, so she buried her in her family's backyard. It wasn't until detectives mentioned their belief that the baby had been born alive that Skylar mentioned the possibility that she might have killed the baby by accidentally squeezing her too tightly. However, it is believed that she did so under the promise that she would get to leave the police station and go home if she cooperated with detectives.

The jury ultimately agreed with the defense and found Skylar not guilty on charges of aggravated murder and endangering children. She was found guilty of abuse of corpse. Skylar was sentenced to 3 years probation for that charge.