Kylr Yust has been convicted for the murders of Kara Kopetsky and Jessica Runions. Kylr was a suspect in Kara's case ever since she vanished in 2007. In the years that following Kara's disappearance, Kylr confessed to various different people that he killed her. Then, in September 2016, he became the prime suspect in the disappearance of another young girl: 21-year-old Jessica Runions. The remains of both girls were found in a similar location in Cass County during April 2017. In October 2017, Kylr was charged with murder. The following timeline provides details of Kylr's case, from the time he met Kara until his conviction.
2006: Kara Kopetsky (17) and Kylr Yust (18) meet in Belton, Missouri and begin dating.
Kara (left) and Kylr (right) circa 2006/2007
April 21st, 2007: Kara is at her friend Amy Clark's house when Kylr shows up looking for her. Kara leaves with Kylr in his vehicle and returns 45 minutes later with a swollen lip and choke marks on her neck. Kylr continues to repeatedly call Kara, but Kara does not pick up.

April 28th, 2007: Kara visits the Belton Police Department to report that Kylr had forced her into his car earlier that evening as she was leaving a fast-food restaurant. He drove to Grandview before eventually letting her go.
Police report describing the incident
April 30th, 2007: Kara files for an order of protection against Kylr.
May 1st, 2007: Kylr is served with the order of protection. He is told that he is not to have any contact with Kara.
May 2nd, 2007: Kara goes to a tanning salon. Despite the order of protection, Kylr accompanies her.
May 4th, 2007, 9:19am: Kara is seen unexpectedly leaving school early. She never returns home.


Surveillance footage of Kara leaving Belton High School. (KSBH)






May 4th, 2007,10:30am:
Kara calls their friend Kyle Reynolds and asks if she and Kylr can come over to his house to hang out. He declines, and states that he is too busy.
May 4th, 2007, 1:30-2:00pm: Kylr unexpectedly shows up at Kyle Reynold's home. He later starts frantically crying, explaining to the friend that he had been with Kara earlier that day, but did not want anyone to know about it because he did not want to get in trouble for violating the order of protection.
Evening of May 4th, 2007: After Kara fails to show up at her job at Popeyes or to return to her family's home, she is reported missing by her mother.


Kara's missing poster
May 6th, 2007: Police question Kylr for the first time about Kara's disappearance. He admits that to kidnapping Kara the previous week, prompting the order of protection--but he denies any involvement in her disappearance.
July 23rd, 2007: Police question Kylr again. This time, he admits that he violated the order of protection and spoke to Kara on the phone on the evening of May 3rd. Kylr tells investigators that he and Kara got into an argument after Kylr accused Kara of planning to "spend the weekend partying and running around on him" with another man. He still denies involvement in her disappearance.
2008: Kylr drunkenly confesses to his new girlfriend Katelynn Farris that he killed Kara.
2009: Kylr drunkenly confesses to a former roommate/bandmate that he "snapped" and killed Kara because she "refused to love him."
Kylr and bandmates (source:Myspace)
April 26th, 2010: That same bandmate/friend contacts Belton police and tells them about Kylr's 2009 confession.
Part of the police report regarding alleged confession (click to enlarge)
Late 2010: Kylr's ex-girlfriend Katelynn Ferris is contacted by the FBI. Katelynn and Kylr are no longer a couple but are on friendly terms at this point. The FBI asks Katelynn to meet up with Kylr while wearing a wire. She agrees.


February 2011:
Katelynn makes plans to meet up with Kylr, per FBI instructions. The two plan to go into the woods and use a Ouija board to try and contact Kara.
Feb. 2011 cont: Katelynn picks Kylr up in her vehicle. She is secretly wearing a wire, and a hidden camera is placed in her car.
Kylr captured on the hidden camera (source)
Feb 2011 (cont): Kylr is heard saying several things about Kara on the recording, including "I strangled the fuck out of her". He also is heard asking Katelynn if it "turns her on" that he killed somebody.
August 19th, 2011: Kylr's new pregnant ex-girlfriend tells police that Kylr had recently tried to kill her by choking her. He also reportedly told her that he had killed girlfriends before in the past and would do the same to her. While reporting this attack, the ex-girlfriend also told police that Kylr had abused and killed kittens in front of her.
Incident report regarding Kylr's attack on his ex-girlfriend. (click to enlarge)
Incident report regarding the animal abuse.

September 2011: Kylr pleads guilty to assault and animal abuse charges. He is sentenced to two years of probation and is required to attend a "batterer prevention program". He is also ordered to have no contact with the victim.
November 23rd, 2011: Kylr is indicted on charges involving tattoo shop theft.
December 16th, 2011: Kylr is arrested for violating the restraining order.
February 24th, 2012: Kylr is arrested on drug trafficking charges.


June 5th, 2012: Another witness contacts police and states that Kylr confessed to killing Kara and described the event with details similar to his previous reported confessions.
November 22nd, 2013: Kylr is sentenced to 4 years in prison for the drug trafficking charges.
September 2015: A Belton detective visits Kylr at a federal prison in Oklahoma. Kylr refuses to answer any questions about Kara's disappearance.
March 28th, 2016: A former cellmate of Kylr contacts Belton police and tells them that Kylr was worried after the September 2015 interview. According to the cellmate, Kylr asked him for help establishing an alibi before breaking down and ultimately admitting to killing Kara.
September 2nd, 2016: Kylr is released from prison and placed on supervised release.
September 8th, 2016: Kylr attends a party in Grandview, Missouri. Also in attendance is 21-year-old Jessica Runions.


Jessica Runions
September 9th, 2016, around 2am: Jessica and Kylr are seen leaving the party together. Kylr was drinking heavily and the two had reportedly been seen arguing. Jessica never returns home from the party.
September 9th, 2016, afternoon: Jessica is reported missing.
Jessica Runions missing poster
September 10th, 2016: Jessica's car is found burning

near 95th Street and Blue River Road.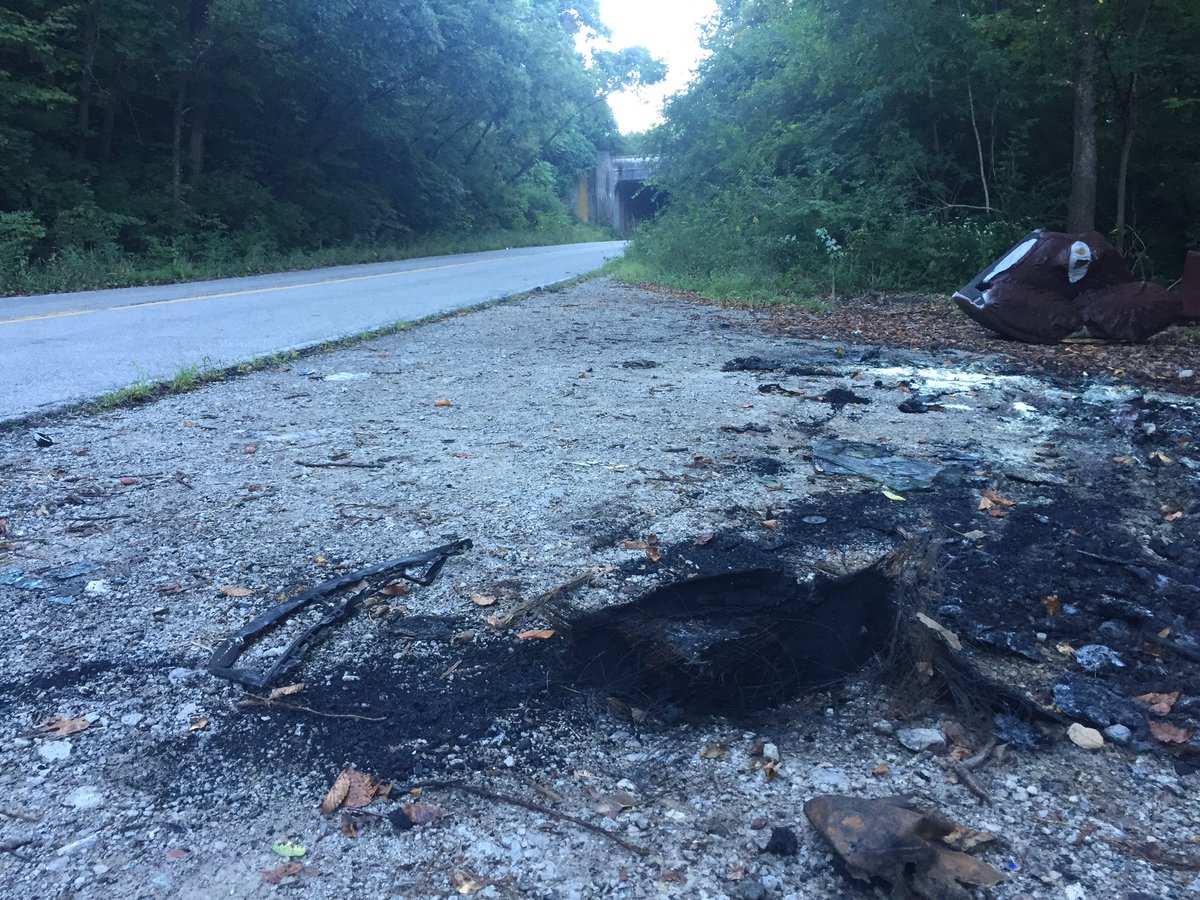 Location where Jessica's car was found burning
September 10th, 2016: Kylr Yust's half-brother, Jessep Carter, contacts police and tells them that he was present when Kylr burned Jessica's car. He also stated that Kylr admitted that he strangled Jessica and disposed of her body in the woods.
September 11th, 2016: Kylr is arrested at Jessep's house. He is charged with knowingly burning Jessica's vehicle.
Kylr following his 2016 arrest
October 5th, 2016: Following this arrest, another former roommate of Kylr's comes forward and states that Kylr confessed to killing Kara Kopetsky during a conversation that had taken place three years earlier.
April 3rd, 2017: A mushroom hunter finds a set of remains in a rural area of Cass County, Missouri. When authorities arrive and conduct a more thorough search of the area, they find a second set of remains. Those remains appear to have been there for much longer than the first set of remains that were found.
April 5th, 2017: The first set of remains are identified as that of Jessica Runions.
August 17th, 2017: The second set of remains are identified as that of Kara Kopetsky.
October 6th, 2017: Kylr is finally charged with the murders of Kara Kopetsky and Jessica Runions. He is also charged with 2 counts of abandoning a corpse.
October 10th, 2017: Kylr pleads not guilty to all charges.
October 10th, 2017
October 10th, 2017 (cont.): Kylr's brother Jessep Carter speaks to news reporters. He says, on behalf of his family, "we just want Kara and Jessica, those families to have some justice served and if he's found to be guilty, we just want them to be-we just want them to feel better at night that he's finally put away. You know and I'm not ok and my family is not ok with anything that he did." Although Jessep admitted to being with Kylr while he burned Jessica's car in September 2016, it appears that he has not been charged with anything related to that case.
Jessep Carter speaking to Action 41 News
July 2018: Jessep is arrested and charged with arson after he reportedly set a Kansas City home on fire.
September 19th, 2018: Jessep is found deceased in the Jackson County Jail. Reports state his death was a suicide. He was likely going to be a key witness in Kylr's murder trials--so many begin to fear this will delay the trial.
October 1st, 2018: Kylr's trial date is set for November 4th, 2019.
August 2019: Kylr's lawyers claim that Kylr is not competent to stand trial. The court ultimately rules that Kylr "lacks capacity to understand murder trial proceedings against him." The judge is reportedly still intent on starting the trial on time.
October 2019: The state rules that Kylr is competent to stand trial. His lawyers request to seek a second opinion. The judge orders a new evaluation to be completed in 60 days--which pushes back the trial start date.
November 2019: Kylr's lawyers state they will withdraw their motion for a new mental health evaluation if the jail doctor prescribes him medicine for anxiety and depression.
December 3rd, 2019: Kylr appears in court during a hearing. His lawyers file a motion for more DNA testing on both Kara and Jessica's remains--which could further delay the trial.
December 19th, 2019: A judge declares that jury selection will begin on July 22nd, 2020.
February 2020: Kylr's lawyers are granted their motion for additional DNA testing.
April 2020: Kylr's lawyers receive reports found by Belton police officers after they cleaned out an old desk. The reports contain "detailed circumstances of a witness providing information in 2013 about another suspect, whose car was later searched by the FBI." The desk also reportedly contained a recording of a suspect who confessed to multiple people that he killed Kara. The lawyers also claim that "they have identified witnesses who saw Kopetsky after she was reported missing May 4, 2007. They said that testimony would disprove a key element of the state's case against Yust."
May 2020: Kylr's lawyers request yet another delay in trial start date. In addition to the ongoing investigation regarding the reports they received in April 2020, Kylr's lawyers also stated that the COVID-19 pandemic has hindered their ability to provide counsel and interview witnesses.
July 2020: A Kansas City police officer is accused of having an inappropriate sexual relationship with a witness in Kylr's case. Reports state that "the officer has been investigating the disappearance of Kopetsky in his spare time for the last ten years. During the off-book investigation, the officer allegedly had a sexual relationship with a witness in the case." Police officers are forbidden to have a relationship with a witness in an ongoing criminal investigation. Kylr's lawyers claim that this revelation will make it impossible for Kylr to have a fair trial.
July 2020 (cont): Kylr's lawyers claim that their phone calls with Kylr were wrongfully recorded. They file a motion to have those recordings turned over to a third-party investigator.
August 2020: Prosecutors argue that the alleged recordings should not delay the trial. The report explains, "although [prosecutors] acknowledge some of Yust's jail communications were recorded and accessed by Cass County Jail staff, the violations do not warrant the removal of the county prosecutor or the dismissal of the case."
April 5th, 2021: Kylr Yust's trial finally begins.
April 6th, 2021: Kara's mother Rhonda Beckford testifies. She confirms the volatile nature of Kylr and Kara's relationship. She also reveals that she found a poem in Kara's bedroom that was seemingly about Kylr. (see below).
April 6th-8th, 2021: Friends and acquaintances of both Kylr and Kara testify that Kylr was abusive towards Kara. Some also testify that Kylr confessed to killing Kara. Katelynn Ferris' recording is played for the jury. Kylr's defense argues that Kylr told Katelynn her killed Kara as an attempt to impress her--but it was not actually true.
April 8th, 2021: Testimony from the family, friends, and acquaintances of Jessica Runions begins.
April 8th, 2021 cont: Jaxxon Mallett, who was dating Jessica at the time of her disappearance, takes the stand. He says that he was friends with Kylr Yust, but cut off contact with him when he found out that Kylr and Jessica were sleeping together.
Jaxxon Mallett


Jaxxon also says that he and Jessica were attempting to work things out before her disappearance. He was unaware that Jessica was still in contact with Kylr.
April 12th, 2021: The defense begins their portion of the trial. It becomes clear that they plan to blame Kylr's late half-brother Jessep Carter as the killer of Kara of Jessica.
April 14th, 2021: Kylr Yust takes the stand.
During his testimony, Kylr says that Kara asked him to pick her up from school on May 4th, 2007. He brings his half-brother, Jessep, with him to pick Kara up. Kylr claims that he left Kara and Jessep alone together that afternoon and never saw Kara again.
Kylr also claims that he only confessed to killing Kara while he was drunk and depressed about having to go to prison on unrelated charges. He also maintains that he only told Katelynn Ferris that he killed Kara because he thought it would turn Katelynn on.
Eventually, Kylr is questioned about his relationship with Jessica. He explains that he met Jessica through Jaxxon Mallett, who was a close friend of his. Kylr says that he did not plan to pursue Jessica because of his friendship with Jaxxon but ending up doing so anyway after being paroled because he craved affection. He states that Jessica was "playing" both him and Jaxxon.
Next, Kylr is asked about the night of Jessica's disappearance. He says that he was very intoxicated that night, and that Jessica drove him to his grandfather's house. Kylr says that Jessep showed up at the house shortly thereafter. He also says that he does not remember anything after that point until the next morning. Once again, Kylr points the finger at Jessep.
April 15th, 2021: Kylr Yust is found guilty of the deaths of both Kara Kopetsky and Jessica Runions. A jury convicted Kylr of voluntary manslaughter for the death of Kara, and second-degree murder for the death of Jessica. He was later sentenced to life in prison plus 15 years.