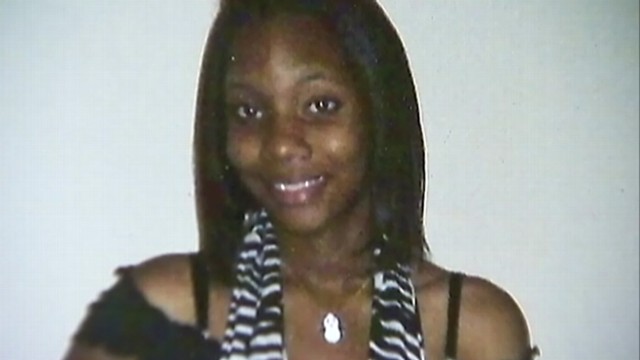 Candice Parchment was only 15 years-old when she vanished from her family's Forest Park, Georgia home on April 28th, 2010. According to her mother, Candice voluntarily left the home that evening. Once Candice's mother reported her missing, she was classified as a runaway.
Although Candice left the home on her own accord, her family and friends still worried about her--especially since Candice had gone through a traumatic experience in January 2010, two months before her disappearance. On an afternoon in early January, Candice called her mother and asked her to come pick her up at an abandoned house in Forest Park. Once Candice's mother found her, Candice ran to the car and said that she had almost been raped by two older boys. Candice's mother begged her daughter to reveal the identity of her attackers, but Candice refused.
When Candice went missing in late April 2010, it was initially unclear if the January 2010 assault and her disappearance were related. While Candice's mother was inevitably concerned about the January incident, it appeared Candice had voluntarily left the home in April. Candice's loved ones feared for her safety, but continued to hold out hope that she would return home alive.

Unfortunately, in December 2010, the case took an unexpected turn when human remains were found underneath an old mattress in a wooded area near Candice's home. Investigators immediately suspected the remains belonged to Candice, and those suspicions were confirmed just a day later. At that point, it was clear Candice had been murdered--she was reportedly stabbed and strangled to death. However, police did not have any identified suspects or persons of interest.
Candice's case seemed to go cold in the months that followed. In October 2011, Candice's mother eventually decided to move to a different home. While packing up some of Candice's items, her mother stumbled upon a diary that Candice had been keeping in the months leading up to her disappearance. Inside the diary, Candice's mother found the lead she had been praying for: the identities of the men who attacked Candice in January 2010.
--Continued:


In a diary entry dated January 5th, 2010, Candice wrote that 19 year-olds Marshae Hickman and Jermaine Robinson had attempted to rape her in the abandoned home. Candice detailed the attack, writing that Jermaine had hit her with a rake and Marshae blocked the door to keep her from escaping. At one point, Candice wrote about how she pleaded with them to let her go. "'Please let me go,' I said. My pants were unzipped. I was scared." After reading those diary entries, Candice's mother was sure that Marshae Hickman and Jermaine Robinson were also responsible for Candice's murder. She immediately turned the diary over to police.
By time police obtained Candice's diary, Marshae was already incarcerated on unrelated robbery charges. Detectives visited him in jail to question him about Candice, and he reportedly confessed to strangling Candice and hiding her under a mattress. However, his version of events tells a different story than the autopsy--which confirmed that Candice had been stabbed and strangled. Marshae denied stabbing Candice. According to court documents, "[Marshae] placed his arm around her shoulders and was trying to speak with [Candice]. He stated that he then placed her in a position where his arm was around her neck. He squeezed tightly and kept his arm there until she fell limp." Marshae was subsequently charged with the murder of Candice Parchment.
Marshae Hickman
Police later arrested Jermaine Robinson for his role in the attempted rape of Candice in January 2010. He was not charged with anything related to Candice's death. Jermaine eventually pleaded guilty to aggravated assault after admitting to hitting Candice on the head that night. He also agreed to testify against Marshae at his murder trial.
Marshae eventually went to trial in April 2013. His defense acknowledged that Marshae confessed to killing Candice, however Marshae claimed he blacked out during the attack and does not remember the act occurring. The defense maintained that this is why Marshae cannot explain Candice's stab wounds, and that somebody else must have been present that night as well. The jury ultimately found Marshae guilty on all charges as follows: murder, aggravated assault, attempted rape and concealing a death. He was sentenced to life in prison and remains behind bars today.
--
Lists including this case: