Alivia Kail has been missing since March 4th, 2011. The 19-year-old was going through a transitional time period in her life at the time she vanished. Alivia was still mourning the loss of her father, who had passed in October 2010. She had also recently broken up with her long-term boyfriend of three years. Though this was a tough time in Alivia's life, it appeared that she was picking up the pieces. She had just gotten an apartment with one of her best friends in Mount Washington, Pennsylvania. Additionally, she began dating a new boyfriend: 22-year-old Alexander Lorenzi.
Before moving into her Mount Washington apartment, Alivia stayed with her brother, Lance Kail, at his residence in West Mifflin. The two siblings were very close, and Alivia still kept many of her belongings at his home even after she moved. Alivia also was in frequent contact with Lance. When her new boyfriend Alexander took her to Miami in late February 2011, Lance was the first person she called after her plane landed safely.
Alivia and Alexander returned to Pennsylvania on March 3rd, 2011. The next day, the couple went to Lance's residence so Alivia could gather more of her belongings. While there, Alivia told Lance that she and Alexander were going back to Florida and that Alexander was paying for the whole trip. Alivia's family members found this a bit odd, since they had just returned from Florida a day earlier. However, Alivia seemed happy and excited--so her family members did not question it.
Over the next few days, Alivia's loved ones began to worry when they did not hear from her. She had called Lance immediately after landing in Florida during her last trip, but this time around, her phone was going straight to voicemail. Alivia's loved ones continued to try to contact her, but they had no luck. Then, on March 19th, 2011, Alivia's family was notified that her phone was disconnected due to nonpayment. At that point, the worries for Alivia's safety set in. Her brother and sister reported her missing that same day.
Once police began investigating Alivia's disappearance, it was discovered that Alivia's boyfriend Alexander had returned to Pennsylvania on March 16th, 2011--without Alivia. Even more concerning: Alexander immediately got a lawyer and refused to speak with police. However, he did tell various other people some conflicting stories about Alivia's whereabouts. Alexander told some people that Alivia had decided to stay in Florida. He told others that he had dropped Alivia off at her apartment in Mount Washington.
It was quickly determined that Alexander was at the very least lying about dropping off Alivia at her apartment. Alivia's roommate had not seen her, nor was there any evidence that she had been there. Both police and Alivia's loved ones continued to investigate the possibility that she was still in Florida. Eventually, police admitted that they had no evidence that Alivia ever actually made it to Florida. At this point, the mystery about what happened to Alivia deepened.
--
As police continued to investigate Alivia's disappearance, they were able to determine that the last confirmed sighting of Alivia occurred when she left her brother Lance's home on March 4th, 2011.
She and Alexander drove away in a red Ford Explorer, and none of Alivia's family members or friends saw her again. As previously stated, there was no evidence that Alivia ever went to Florida after leaving Lance's house, and the only person who could confirm this information was not speaking to police.
Despite his silence, police still continued to pursue Alexander as a potential suspect in Alivia's disappearance. On March 30th, 2011, authorities in Allegheny County arrested Alexander after finding cocaine, marijuana, and a stolen firearm inside his home. He was charged with receiving stolen property and possession of cocaine and marijuana with intent to distribute.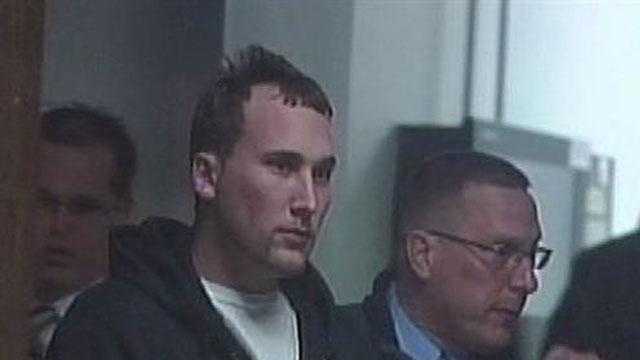 Alexander Lorenzi. (source : WTAE)
These charges were unrelated to Alivia's disappearance, but during searches of Alexander's residence and vehicles, police discovered potential clues related to Alivia. While searching Alexander's home, police found a pink tote bag that belonged to Alivia, in addition to several shell casings and a sheet that appeared to be stained with blood. Inside Alexander's father's truck, police found even more shell casings, some jewelry, and a single plane ticket to Fort Myers, Florida.
Alexander's cell phone records confirmed that he did, in fact, travel to Florida between March 9th and March 15th--but there was no evidence that Alivia was with him on those dates. After all of these discoveries, Alivia's family members became certain that Alexander had knowledge about what happened to Alivia.
Still, police also investigated other potential suspects, including Alivia's ex-boyfriend Zach Zilles. Zach was arrested on unrelated charges the day after Alexander was arrested, but he adamantly denied any involvement in Alivia's disappearance. Eventually, police ruled Zach out as a suspect.
Alexander continued to be uncooperative with police. He soon began dating another woman, but the relationship was troubled. In August 2011, Alexander's new girlfriend called police and said that he had beaten her dog to death. Police went to his home, and while there, they found cocaine and $6000 cash. When the police announced that they were placing him under arrest, Alexander assaulted one of officers. He was arrested on all of these charges but continued to remain silent about Alivia's disappearance.
Alivia's family members held a candlelight vigil in Alivia's honor on the one-year anniversary of her disappearance. At his point, both Alexander and his parents had not reached out to police or Alivia's family at all over the past year. However, Alexander's mother Genie Lorenzi showed up the night of Alivia's candlelight vigil.
Alexander's mother Genie did not actually participate in the vigil. Instead, she spoke to local reporters covering the vigil and said that she was unhappy about the speculation about her son. She was heard saying, "My son has never been charged, never been arrested, nothing whatsoever to do with this."
The investigation into Alivia's disappeared continued to remain stagnant. Then, in January 2013, police announced that Alivia might have been a victim of sex trafficking. It is unclear how this theory emerged, but police maintained that it was a possibility.
Just months later, investigators searched a 40-acre land close to Allegheny County Airport. According to reports, detectives were led to that location after "a combination of information learned from cell phone records as well as interviews with dozens of people led them to believe that Alivia's body might be located in that area."
Over 80 people were involved in that search. Bones were found, but they were not human bones. It appears that no sign of Alivia was found during the search.
Alivia's case has many similarities to the Gabby Petito case. In August 2021, 22-year-old Gabby vanished while on a cross-country trip with her boyfriend, Brian Laundrie. Many began to suspect that Brian was involved in Gabby's disappearance after he returned home without Gabby. Much like Alexander Lorenzi, Brian also refused to speak with police.
Brian Laundrie & Gabby Petito
Alivia disappeared a whole decade before Gabby did, but Alivia's case did not garner the same international attention that the Gabby Petito case did. The widespread attention that Gabby's case received ultimately helped lead investigators to Gabby's remains in Grand Teton, Wyoming. The investigators working on Alivia's case unfortunately have not received such leads, and Alivia's fate still remains a mystery.
Alivia's case has unfortunately gone cold. Her family still remains hopeful that they will one day find answers. If you have any information that could help the investigation, please contact the Allegheny County Police at 412–470–1300.
-
Sources:
Charley Project
Medium
WPXI, 2